Gewölbesaal (Vaulted Hall)
Columns and the cross vaults shape the unique character of the former coach-horse stable. With a huge buffet area, dance floor and access to the open-air restaurant it offers space and ambience for 50 to 80 guests.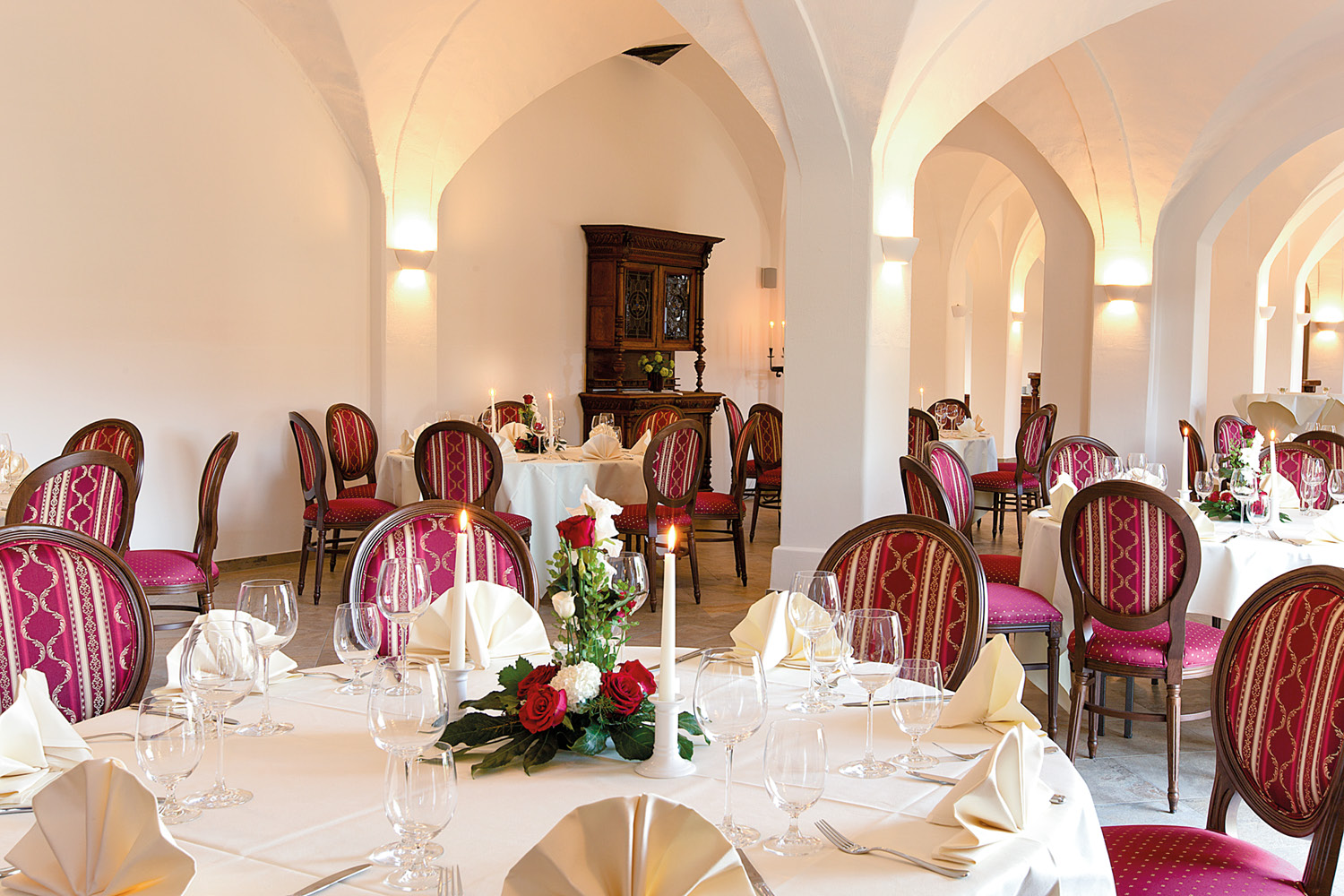 Kulturscheune (Culture Barn)
Under its spectacular roof structure, the old barn of the estate with its side rooms opens a huge stage for concerts, banquets and feasts. Depending on your wishes we prepare an elegant-festive or country-style ambience for 80 to 250 persons.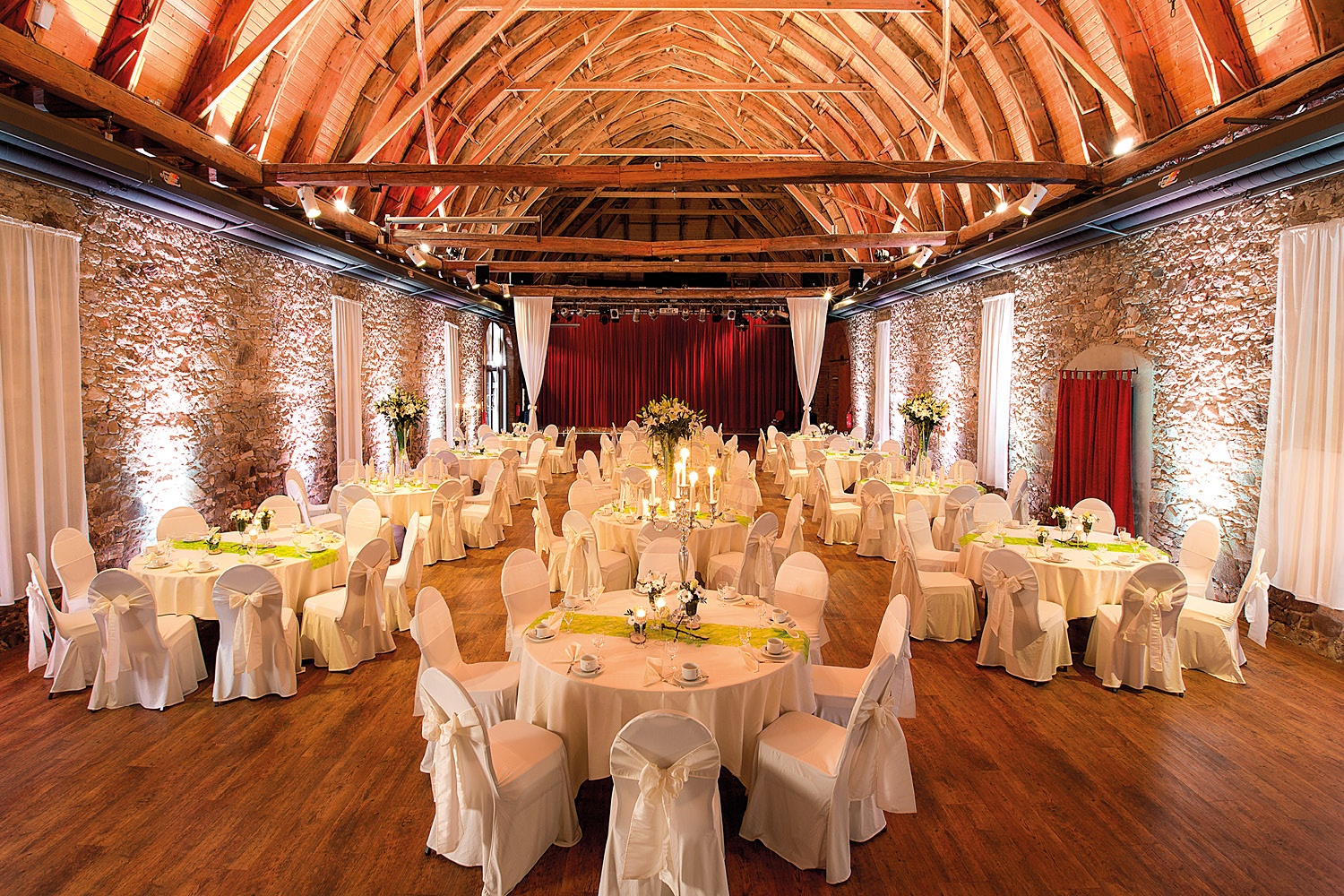 Luthersaal in the Monastery Inn
Beautiful natural stone walls, rustic beams, a long table and comfy highchairs: in our Luthersaal you will experience the late medieval way of pleasure. 30 to 50 guests or groups with up to 60 persons can be conveniently seated here and in our open-air restaurant.
Roter Salon
The light-flooded Rote Salon (»Red Salon«) with its huge window wall towards the garden is well known to our guests as the breakfast restaurant. For your party we are looking forward to transforming it to a festive winter garden for up to 40 guests.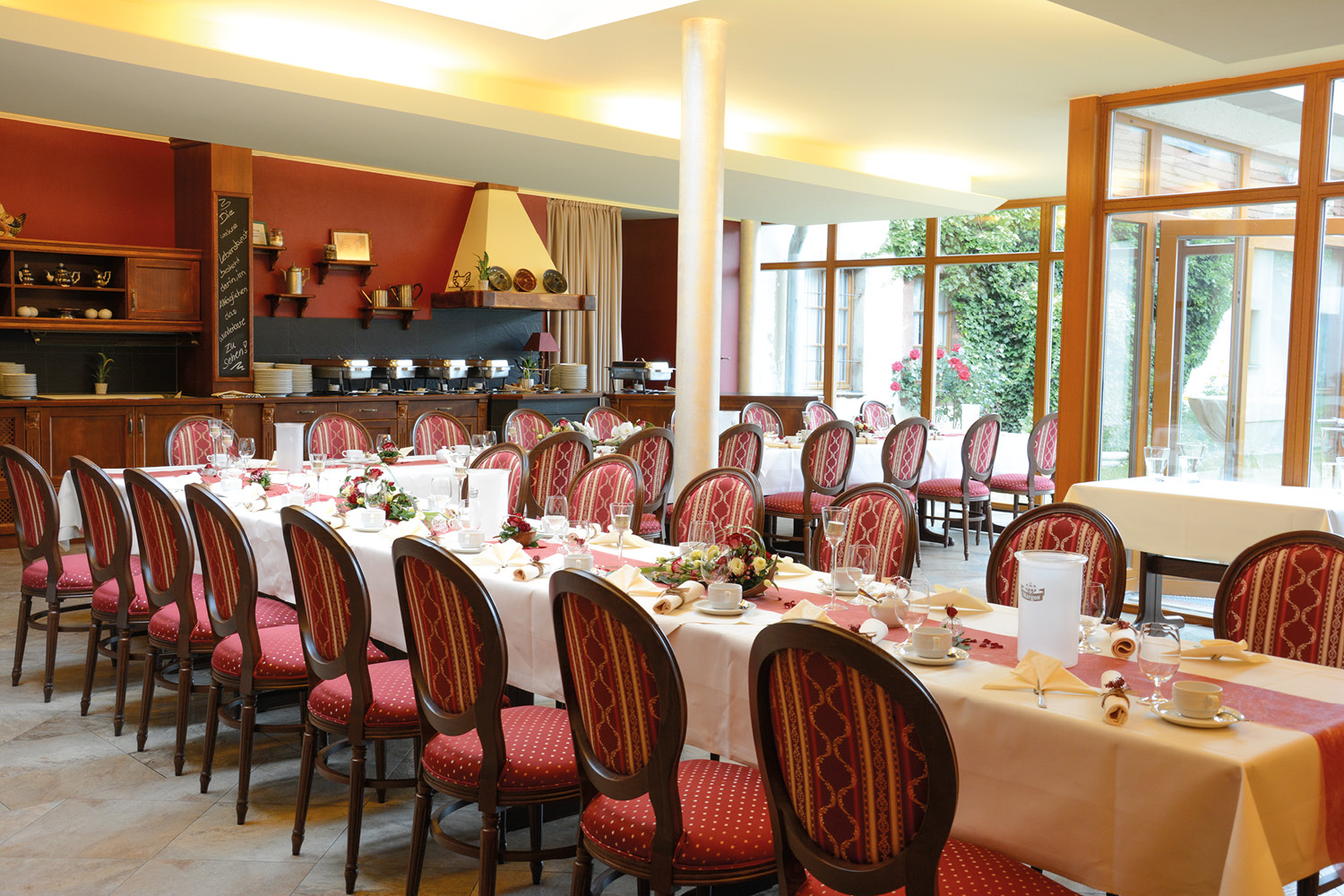 »Gaumenfreude«
A highly modern kitchen in a more than 200 years old stable vault: in our culinary school »Gaumenfreude« (»Culinary Delight«) cooking and eating becomes a common indulgence for up to 28 guests. And the neighboring bowling vault with the open-air restaurant offers even more possibilities!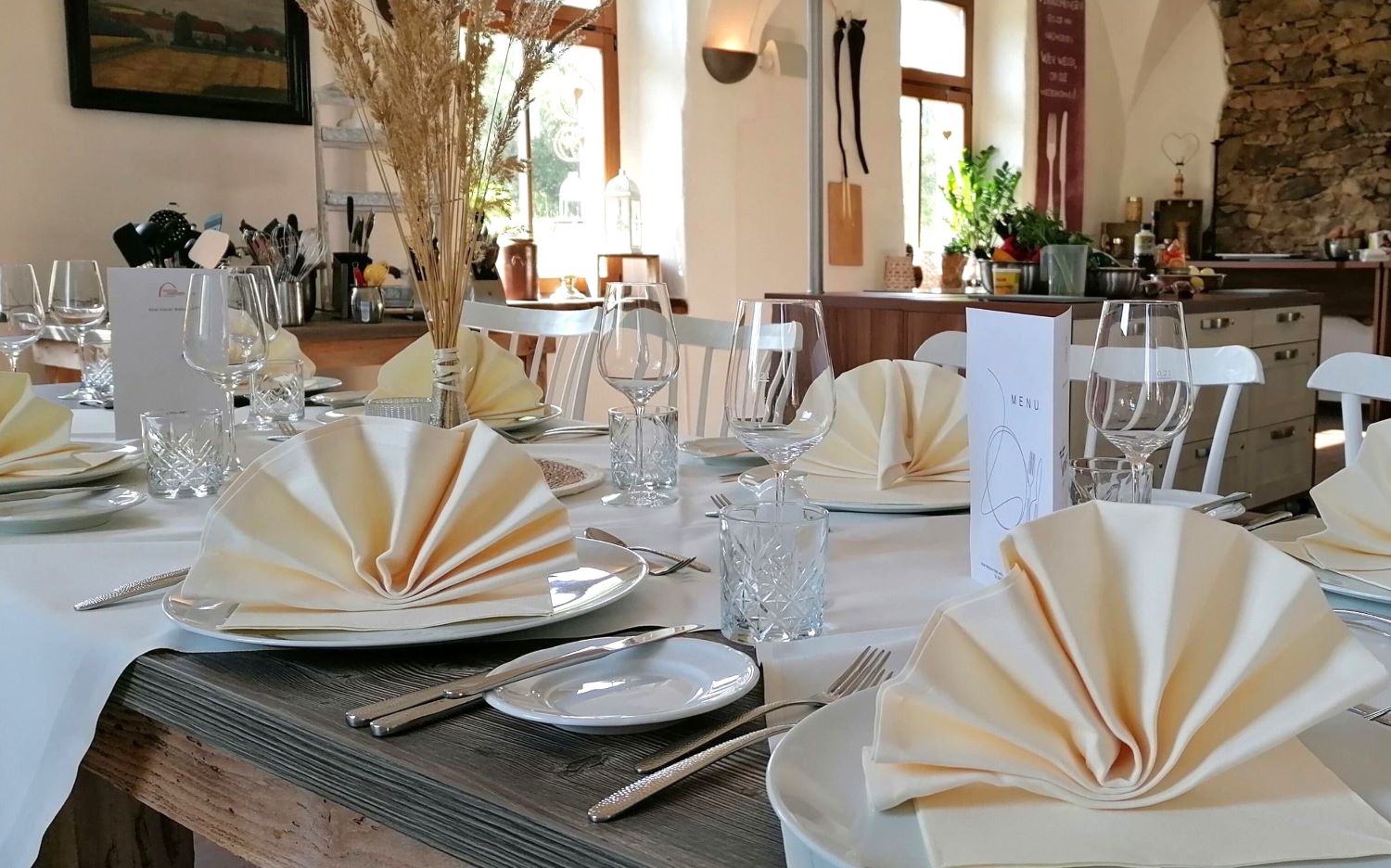 Genusslounge (Indulgence Lounge)
&
Bowlinggewölbe (Bowling vault)
For parties with up to 75 persons: in the atmospheric setting of a long stable vault you can not only have a good game of bowling but also dance in the vestibule, celebrate and be culinarily indulged.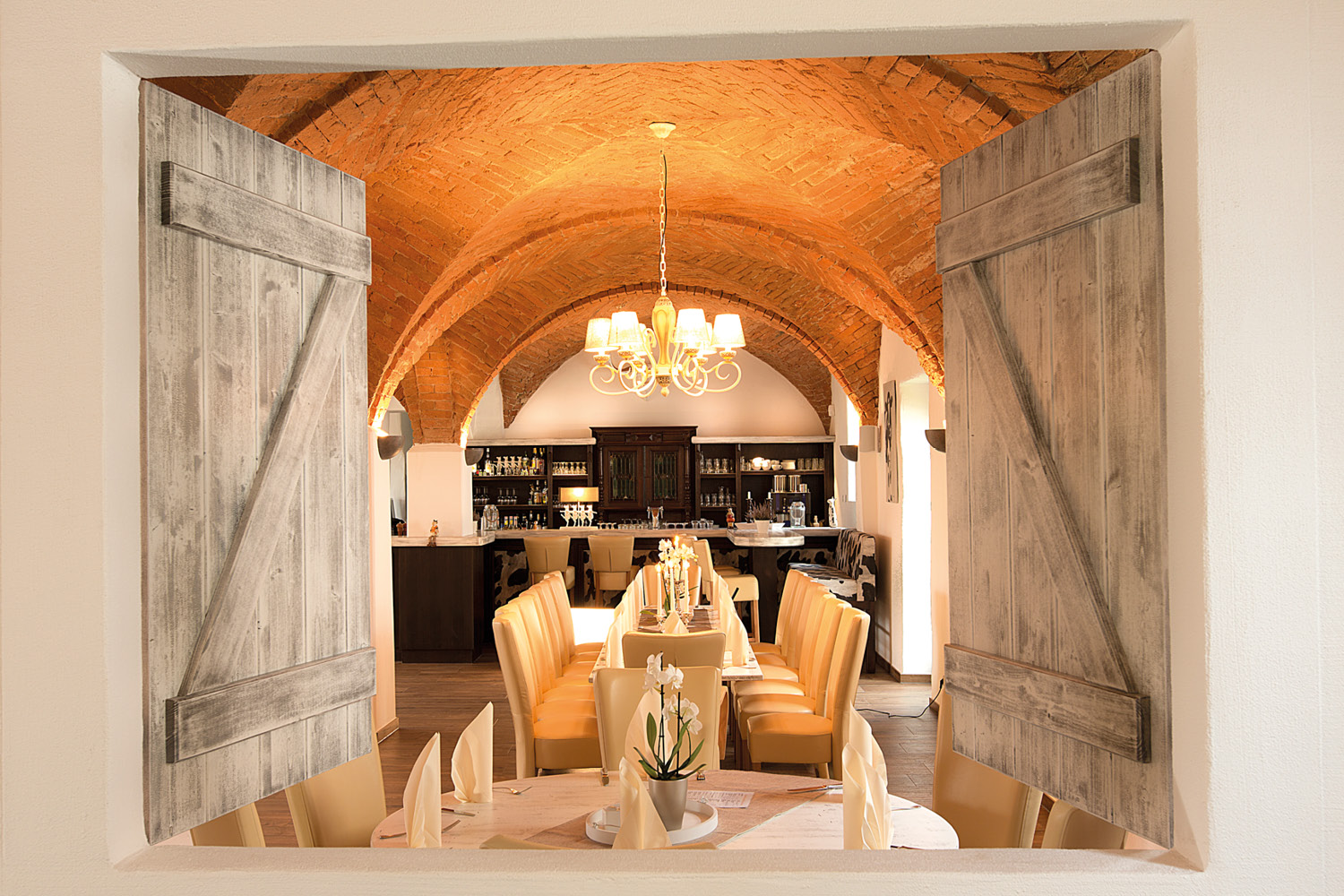 Dance Lounge »Plan B«
The perfect party under the vaulted roof: our dance lounge is a stylish alternative program to the abbey's history. At the fully equipped »Plan B« your party transits to nightclub mode with full energy. (Upon request)
Compare our festival rooms:
| | | | | | | | | |
| --- | --- | --- | --- | --- | --- | --- | --- | --- |
| Rooms | qm ca. | LxB | Parlament | U-Form | Kino | Bankett | Block | Tischreihen |
| Gewölbesaal (Vaulted Hall) | 184 | 23x8 | 30 | - | 80 | 90 | - | - |
| Kulturscheune (Culture Barn) | 300 | 30x10 | 150 | - | 200 | 144 | - | 250 |
| Luthersaal | 76 | 13,6x5,6 | - | 50 | - | - | 32 | - |
| Roter Salon | 100 | 11x9 | - | - | - | - | 37 | - |
| Gaumenfreude | 93 | - | - | - | - | - | 26 | - |
| Genusslounge (Indulgence Lounge) | - | - | - | - | - | - | - | 75 |